A mother whose son was killed after being stabbed will be honoured for her fight to stop more young people dying from knife crime, when she receives her MBE on Tuesday 30th November at Windsor Castle.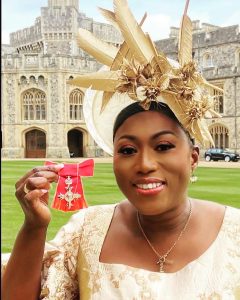 Yvonne Lawson set up the Godwin Lawson Foundation almost a decade ago in memory of her son, after he was killed in a knife attack when he was just 17 years old. Since then, Yvonne has been heading up the Foundation, and has set up schools, families, and community centre projects across London, in a bid to stop young people getting caught up with gangs and knife crime and suffering the same fate as her son.
Government figures show knife crime at a record high, the outstanding work of Yvonne and her foundation is needed more than ever. In the 12 months to the end of June 2019, knife crime saw an increase of 7 per cent, a new record level since 2011. In London alone, 29 lives have been lost in 2020 to knife crime.
Yvonne Lawson, said, "This award is dedicated to our handsome son, Godwin, whose contagious smile kept me going regardless of the difficulties. It is also dedicated to all those who gave me a shoulder to cry on, those that wiped my tears when I didn't have a tissue those that made me tons of cups of tea to keep me warm, hugged and showed me love, those that held my hand and helped me to walk again, not forgetting the pots of jollof rice to feed the family. Above all, those that held my hand and prayed for my family. I just want to say thank you, this is our award and your reward,"
A former primary school teacher for 16 years, Yvonne now dedicates her time to her son Godwin's memory, by ensuring no more young lives are lost to gang activity and knife crime and keeping his legacy alive. Through the foundation the charity educates young people, providing them with the skills and motivation to thrive and prosper away from gang life and violence.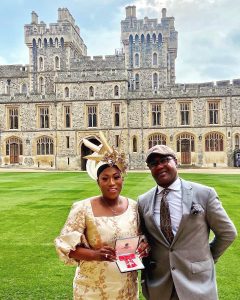 In 2015 Yvonne lobbied the government to change the law about knife crime.  She was instrumental in encouraging them to introduce a two strikes law.  Which meant that anyone  caught carrying a knife for the second time would receive a mandatory sentence.
Recently Yvonne joined together with the Met Police and Crimestoppers to launch a new programme Hard Calls Save Lives, she was joined by other mothers who had lost their children to knife crime to tell their story. The initiative encourages anyone who has information about knife crime to report it anonymously and stop other young people dying.
Alongside this programme, the Godwin Lawson Foundation has developed links with sports clubs such as Tottenham FC, community organisations and public sector bodies. Yvonne has worked with the MET Police to secure funding to support 'early intervention' that helps those at risk of school exclusion and gang grooming in Haringey and Enfield.
Yvonne goes on to says, "The pain of losing a son is indescribable, but when it is so needless it makes it even worse. When I set up the Godwin Lawson Foundation nearly 10 years ago, I wanted to ensure that my son's death was not in vain.
I want to see violence free community where each young life is valued, nurtured, and protected. Young people so much to offer and want them to thrive and contribute positively rather than have their lives and potential stolen".
Yvonne will receive her MBE on Tuesday 30th November at Windsor Castle.
If you would like to interview Yvonne Lawson or for further information and images, please contact Neill Young on 07989 570388 or email neill@connectivecomms.co.uk
NOTES TO EDITORS
__
About Godwin Lawson Foundation
The Godwin Lawson Foundation is a registered charity commemorating the life of Godwin Lawson and set up to advance the education of young people so that they can develop their capabilities as members of a tolerant society. We do this through personal development, educational and sporting activities that improve the self-esteem of young people; helping them to develop a team spirit while also raising awareness of social issues and cultural diversity.
On Saturday 27th March 2010, 17-year-old Godwin Lawson was walking home with his friends in North London when they were attacked by a group of men. The attack was unprovoked and when Godwin went to help his friends he was fatally stabbed. His life was abruptly taken away from all who knew and loved him.
The Godwin Lawson Foundation invests in young people who want to be a part of positive community initiatives and helps them to develop so they can lead rich and fulfilling lives and contribute to a safer society.